ABA Chemicals Corporation Announces The Acquisition Of Amino Chemicals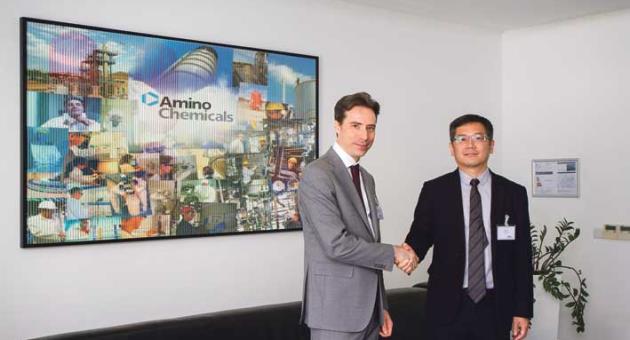 ABA Chemicals Corporation, a leading API and CMO producer in China with headquarters in Jiangsu, announced on June 30th, that it has completed the acquisition of Amino Chemicals based in Malta, from Dipharma Francis, a leading European manufacturer of Active Pharmaceutical Ingredients.
AMINO was founded 1992, and became part of Dipharma Group in 1999. AMINO's plant in Malta is full GMP and FDA compliant. The transaction is approved by Malta Enterprise and Malta Industrial Parks Ltd.
ABACHEM is a publicly listed company in China with market cap of ca. $1bn. It is a top tier API and CMO producer in China with three manufacturing sites in Jiangsu Province and three R&D centers in Shanghai. ABACHEM is a trusted supplier for some of the world's largest chemical and pharmaceutical clients. It has a total revenue of about $100m in 2016 and 1,200 employees in total.
Tong Cai, Chairman of ABA Chemicals Corporation, commented: "Dipharma is a respected partner of ABACHEM. Our relationship with AMINO started more than ten years ago. Although the ownership of AMINO has changed, it will continue a very strong relationship with Dipharma as AMINO acts as the exclusive supplier for more than dozen of Dipharma's CMO products for next three years. This transaction will also establish ABACHEM's operations in Europe and strengthen the co-operation between ABACHEM and Dipharma. AMINO will be our important stepstone for further international development."
Marc-Olivier Geinoz, Chief Executive Officer of Dipharma Francis, stated "This transaction will offer great opportunities for collaboration between Dipharma and ABACHEM, including new business opportunities with China, the world's second largest pharmaceutical market. It will also provide Dipharma and its shareholders with additional resources to invest in strategic projects In the meeting with all AMINO employees after the change of ownership, Mr Cai laid out clearly the rationale of this transaction and the future development strategy for AMINO. As of 2017, ABACHEM have three manufacturing plants in China but are still in the process of gaining full GMP licenses. Therefore, AMINO's fully GMP and FDA licensed plant in Malta is an essential asset for ABACHEM, as it will offer ABACHEM access to much larger customer base.
In addition, the business-friendly environment in Malta, with the support of M.E. and M.I.P for the transaction, as well as large pool of skilled workers at AMINO make it a perfect platform as ABACHEM's headquarter in the European Union.
"AMINO is a very important first step for ABACHEM's international expansion. It opens the door for us to operate in the European Union and provides the opportunity to become a truly global company over the coming years. Not only will we keep the current production footprint and employees of AMINO, but additionally we plan to invest significantly into AMINO over the next three years to realise a business plan of doubling the business volume of AMINO until 2020. In addition, ABACHEM has a stellar R&D center with 120 R&D chemists in China, who will support AMINO's further development with API and CMO products, generating further growth for AMINO," Mr Cai commented.
ABACHEM also commits to retain the existing AMINO management team. "Antonio Sommei, the CEO of AMINO, together with his management team, has operated AMINO successfully over decades. We trust Antonio and his team completely and we are very excited to work with them and support them as much as we can."
Mr Cai added, "We are extremely confident that with Antonio Sommei, his management team, and all of AMINO's employees, AMINO will continue to deliver the best result for its clients. With the support of ABACHEM, a publicly listed company in China with significant financial resources, we believe AMINO will offer an excellent working environment for its employees."
Independent Online. ©2017. Standard Publications Ltd. Registered Office: Standard House, Birkirkara Hill, St. Julian's, STJ 1149, Malta.