Xugong Group Construction Machinery Inc. Forced To Raise Prices On Equipment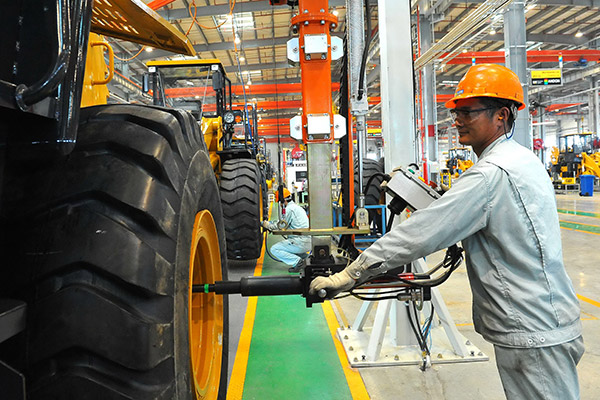 The cost of construction machinery may continue to rise, due to the surging price of materials and increasing demand from infrastructure projects, industrial analysts said.
In fact, they said, leading companies have already raised prices for loaders by 5 to 10 percent.
China's leading heavy industrial equipment manufacturers, including Guangxi-based Liugong Machinery Co Ltd, Shandong-based Shantui Construction Machinery Co Ltd and Jiangsu-based Xugong Group Construction Machinery Inc, have decided to lift the price on their loaders due to the rising cost of manufacturing materials such as steel, rubber, aluminum and iron castings.
Wang Huajun, senior analyst at Zhongtai Securities Co Ltd, said that the major push behind the price rise was the soaring cost of steel, which accounts for around a third of the entire cost of manufacturing heavy machinery.
According to data from zh818.com, a national steel industry monitoring website, steel prices have doubled this year, from 2,000 yuan ($310) per metric ton to 4,000 yuan.
"Raw materials including steel and rubber have become growingly expensive," Wang said last week. "Also, the supply of materials will keep (tightening) as the steel manufacturers are facing cuts in production capacity to reduce the environmental impact."
According to Liugong's notice to the retailers, Liugong will lift the price for its three-ton loaders and five-ton loaders by 10,000 yuan and 20,000 yuan respectively, starting in October.
Shantui and Xugong also released similar notices recently, while Sany Heavy Industry Co, among the biggest companies by sales volume, hasn't clarified if it will follow the same path.
Wang said it was possible that a series of products such as cranes, tower cranes and excavators will also see a price raise to tackle the rising cost, which should result in the manufacturing companies seeing better performance in the second half of the year.
Despite the rising cost and low stocks available, the sale performance of heavy machinery remains strong due to the increasing projects both home and abroad. According to a China Construction Machinery Association's report, Chinese excavator manufacturers will see their sales soar by 50 percent in 2017 from the previous year.
"A large percent of Sany's overseas profit was generated in economies involved in the Belt and Road Initiative," said Huang Luchuan, chief marketing officer of Irootech, the industrial cloud platform and solution provider.
"For example, excavators are not just used for basic construction. They are also used in advanced projects such as wind power farms, industrial housing, smart city developments and medical equipment factories."IMAGINE: You wake up in the morning and your robot housekeeper makes your bed, cooks breakfast and cleans the floors.
Minutes later, a driverless car whisks the kids off to school, while a robot nurse cares for you elderly parents. You arrive at the office only to find robots have done half of your work.
Such thoughts were once the stuff of science fiction, but robots are increasingly taking part in the real world.
"Hello, Alpha, I'm back."
"Hello. Welcome home," says Alpha 2, while automatically switching on the lights, air-conditioner and television.
Voice-controlled humanoid butler Alpha 2 has been charming crowds at the recent 2017 World Robot Conference in Beijing.
Created by Chinese firm UBTech Robotics, Alpha 2 is able to do anything from housework and finding weather reports to dancing and reading children their bedtime stories.
"Robots are important in providing companionship and service at home," says Li Zhen, general manager with UBTech's brand department. "For the elderly who find it difficult to fetch a remote control or switch on the air-conditioner, these things can be done by robots."
Once pure fantasy, intelligent machines are becoming increasingly common. In the future, family-friendly Alpha 2 will have even more functions.
In another booth at the exhibition hall, Chinese e-commerce platform JD.com is displaying its robot courier and drone. If used widely in the future, it will reduce costs and raise efficiency in the logistics sector.
The company uses a white robot courier, weighing around 200 kilograms, in at least four universities, according to Zhang Zhitong, senior manager with JD.com's public relations department.
The robot courier is capable of avoiding obstacles and mainly used in urban areas.
Delivery robots
For remote rural areas, JD.com is developing drones that can deliver packages by passing through mountains, rivers and forests.
Zhang says that dozens of drones are being used in the city of Xi'an in Shaanxi Province, and the city of Suqian in Jiangsu Province.
Last month alone, more than 3,000 orders were delivered by drone in Suqian.
China's logistics costs accounted for 14.9 percent of GDP in 2016.
"The ratio was significantly higher than developed economies," Zhang says. "Lower logistics cost will have a great impact on Chinese society."
Some worry the robots will cause workers to lose their jobs, but Zhang disagrees.
"The technological revolution will not lead to unemployment. It will push people to adjust to new jobs," he says.
"Delivery workers can learn about managing and maintaining robots or flying drones," Zhang adds.
While parcels can be delivered to your hand by robots, a robot known as Bestic can even feed you with a spoon.
Developed by Swedish-based Camanio Care, Bestic acts as a human arm to feed the user, mostly the elderly or those with difficulties using their arms or hands. It can increase meal-time independence and allow users to enjoy meals in their own space.
Bestic costs around 4,000 euros (US$4,800) overseas, but its price in China has not yet been decided, says Lu Tonghua, product manager with Zhongrui Funing Robotics Technology in Beijing, whose parent company is an agent and shareholder of Camanio Care.
Lu says the robot will be adjusted to Chinese eating habits in the future. "For example, Chinese elderly like to eat soup or noodles. A spoon alone is not enough."
He says that more than 10 nursing homes have shown a willingness to purchase the robot.